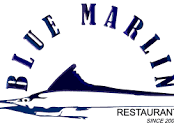 Blue Marlin Restaurant
About Us
The Blue Marlin Restaurant is located in Diani Breach, on the eastern coast of Kenya, a tourist resort well known for its crystal clear sea waters and beautiful beaches.

Prides on not just its perfect location on the beach but also a breath-taking view of the Indian Ocean. Guests staying at the Blue Marlin Boutique hotel and walk in visitors can get to enjoy a wide variety of locally sourced seafood, and an amazing selection of cocktails. Whether you want a breakfast or a light lunch, or a long afternoon of eating and drinking, the Blue Marlin menu will complete a perfect day at the beach.

The Chef's table by Blue Marlin – a unique, romantic, and private experience. The table is set in a Swahili style gazebo on the beach level, away from other diners and lit only by candles and moonlight with only the sound of the waives and the warm atmosphere of the light of the stars. Couples will enjoy a 5-cource tasting menu, specially designed using the best produce of the day, paired with 2 glasses of champagne and will have their own waiter serving at their table. The Chef's table experience must be booked and planned in advance. Blue Marlin host yoga and breakfast every Tuesday, Thursday, and Saturday mornings. Blue Marlin can host weddings, events, fashion shows, family celebrations and corporate experiences. We take bookings for exclusive and shared venue hire. Our experience and excellent organization ensure that we constantly produce and deliver the highest quality events and celebrations.
Please contact us with your requirements and ideas.
Restaurant Type
Casual Dining, Family Style
Services
Smoking Area, Kids Area, Disabled access, Beachfront, Outdoor Seating, Parking
Payment Options
Cash, Visa, American Express, Mastercard, Apple Pay, Google Pay
Map & Contacts
Address
Beach Road
Diani, 80401